Are you an avid gamer of Fortnite and, after so much hard training, you are going to face other players in a tournament that, for the occasion, you will broadcast in live streaming. Before starting the game you would like to activate the option you need to ensure your anonymity towards your opponents, but unfortunately you can't find it.
How do you say? Things are exactly like that and you wonder about how to put anonymous on Fortnite? In this case, do not worry: your game is in good hands since, in the next chapters of this tutorial, I will provide you with all the details on the possibilities given by the tool in question, explaining, step by step, how to activate and possibly also deactivate the anonymous mode of the famous video game by Epic Games.
I guess you'll be eager to find out more, right? In this case, I invite you to sit down comfortably and take just a few minutes of free time, so that you can carefully read the procedures I am about to illustrate. You will see that, following my instructions, you will succeed easily and quickly, in the intent that you have proposed. At this point, I just have to wish you a good read and, above all, a good time!
Index
Preliminary information
How to put anonymous on Fortnite
How to remove the anonymous on Fortnite
Preliminary information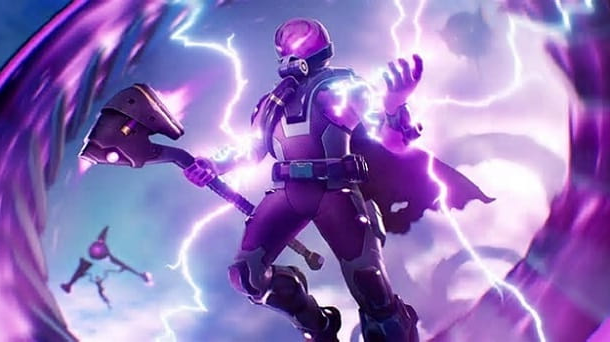 Before explaining to you how to put anonymous on Fortnite, I have to give you some preliminary information on what this feature is and what it is for.
You must, in fact, know the Fortnite anonymous mode is a tool that can be activated through the video game settings, independent of the platform used, which allows you to disable the display of your nickname towards all players who are not in your team.
This possibility can be useful if, for example, you are playing Fortnite live streaming or on a competitive occasion during a fair or tournament. In this case, in fact, activating this option could help you avoid that opponents, knowing your username, have an advantage, by going to spy on your gaming activities.
Following this activation, in fact, your Fortnite username will be replaced with the words "Anonymous" for all those who are not part of your team; your team members, on the other hand, will normally see your account name.
The purpose of this guide will be to explain in detail how to activate and deactivate the functionality in question.
How to put anonymous on Fortnite
put anonymous on Fortnite the first thing you need to do is start the popular Epic Games game that you downloaded on your PC, smartphone or console: don't worry, the procedures to be implemented are the same on all platforms.
When starting the game, select the mode Battle royal and press pulsating Play, to go to the main screen, that is the Lobby. At this point, press onmenu icon located in the upper right corner and, in the side menu that is shown to you, press on the item Settings.
Now, go to the section Account and Privacy, by pressing on icona dell'omino located at the top. Then scroll down the screen and locate the entry Anonymous mode. Then, to activate this option, move the lever up Si. Finally, confirm the operation by pressing the button Apply. You didn't think it would be that easy, did you?
How to remove the anonymous on Fortnite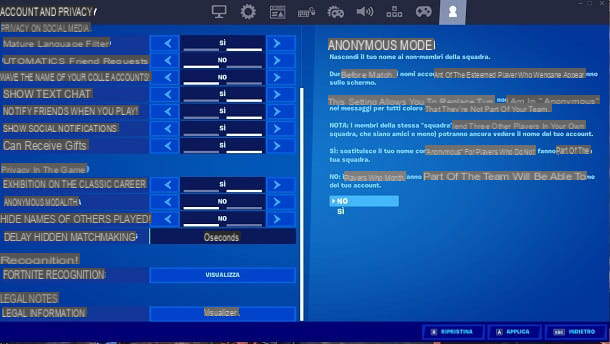 You can disable Fortnite anonymous mode and, consequently, to make sure that the opponents see your username during the matches, always acting through the game settings of Fortnite.
So, all you have to do is go back to the menu Settings> Accounts and Privacy of the game, which you can easily access from Lobby, move on No the lever located in correspondence with the wording Anonymous mode and confirm the deactivation of the function in question by pressing the button Apply (down). Very easy, isn't it?