Are you a fan of Fortnite, Epic Games' well-known Battle Royale title, and you usually play it on a computer. You think the game is particularly fun, however, you get the impression that some users have an edge: it almost feels like they are able to aim perfectly. You have therefore read up on the subject and have heard that there is a system of aim assist, the Aim Assist, even on PC, but you don't quite understand how to activate it. Well, if that's the case, know you've come to the right place!

In today's tutorial, in fact, I will explain to you in detail how to put aim assist on Fortnite PC. In case you were wondering, I will analyze this possibility in detail, showing you the procedure to enable and set it correctly and talking about its operation. I will also not fail to show you other methods to improve your aim in the Battle Royale of Epic Games, giving you some tips that I hope will be useful to you.
Courage: why are you still standing there motionless in front of the screen? Do you want to learn how to score perfect hits in Fortnite? I think so, since you are reading this guide with interest. Come on then, just take a few minutes of free time and follow the quick instructions below. That said, there is nothing left for me to do, except wish you good reading and have fun!
Index
Preliminary information
How to have aim assist on Fortnite PC
Other ways to improve your aim in Fortnite
Preliminary information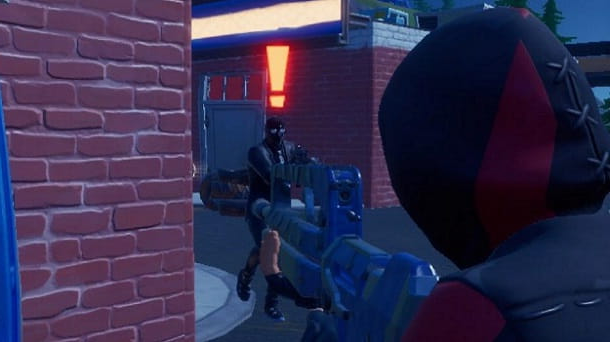 Prima di enter the dettaglio della procedura su how to put aim assist on Fortnite PC, I think it might interest you to know more about this possibility.
Well, you must know that theAim Assist is a help that is provided to players to make games more fun and competitive. Put simply, if a user aims in the vicinity of the opponent, the game "intervenes" by moving the crosshairs and directing the shots correctly. In short, instead of making the "silhouette" to the enemy, you can hit him.
This is a method used primarily on consoles, where the primary input method is the controller. In fact, a manual aim on this platform can make it difficult to hit the opponent, especially in the most excited actions, since it is not easy to aim at high speeds with the pad.
The speech is different on PC, since the most common input method is constituted by mouse and keyboard. These peripherals in fact allow a faster and more precise movement than a controller.On computers, therefore, it is right that there is manual aim and in fact it is like this: players who use mouse and keyboard cannot take advantage of the Aim Assist.
However, Fortnite for PC supports the controller and then, by connecting the latter, it is possible to activate and set the aim assist even on a computer. This is a possibility that has divided users since its implementation, as some players have complained that Aim Assist can benefit those who use the controller over users who play with a mouse and keyboard.
In fact, it is possible to change the input method directly into the game and therefore, in fact, users with mice and keyboards inside servers may encounter those with controllers. In any case, we are talking about a possibility allowed directly by Epic Games and therefore there is nothing wrong with wanting to use the pad on Fortnite for PC.
How to have aim assist on Fortnite PC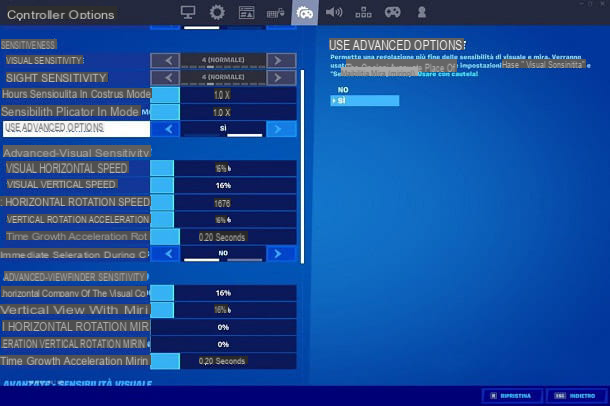 After explaining what aim assist is, I would say that you are ready to activate it.
To proceed, start Fortnite, enter the mode screen Battle Royale e premium pulsating Esc keyboard. Next, press on the item first Settings and then oncontroller icon (the fifth from left to right). Now, scroll down the page and move the lever relative to the option Use the advanced options su Yes.
Perfect, now you have to check that bar Intensity Aim Aid is not disabled (i.e. set to 0%). My advice is to set this option directly to the 100%, in order to get the maximum benefit. However, you can clearly rehearse in the various games and see which value is the one that best suits your style of play.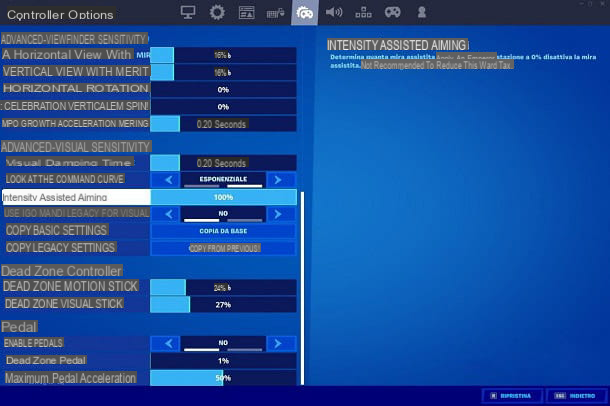 At this point, press the button A keyboard, to apply the changes; then press Esc, to return to the main menu, and colleague il controller at the PC. If you have a classic PS4 or Xbox One pad, I recommend you take a look at my tutorials on how to connect PS4 joystick to PC and how to connect Xbox One controller to PC.
Great, now you just have to start any one Partita and try theAim Assist. Seen? It didn't take that long to reach your goal!
Other ways to improve your aim in Fortnite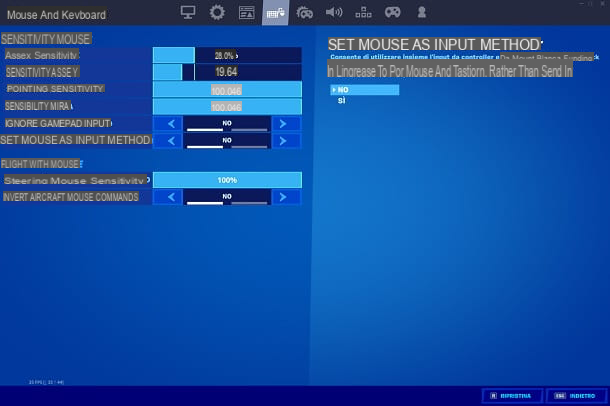 How do you say? You used to play Fortnite on PC and would like to improve aiming without Aim Assist? No problem, I will immediately give you some advice that you might find useful.
The first thing you should consider is the peripherals. In fact, Fortnite pro players often use models of mouse, keyboard e controller specially designed for the Gaming.
There are accessories for all tastes and I can assure you that the competitive advantage guaranteed by peripherals designed for gaming can be important. For more information, I recommend that you take a look at my guides to the best gaming mice and best gaming keyboards.
See offer on Amazon See offer on Amazon See offer on Amazon
For the rest, you might want to change the settings related to target sensitivity. To do this, simply go to the main menu of Fortnite, first il pulsating Esc on the keyboard, select the item Settings and press onmouse and keyboard icon or oncontroller icon, depending on the input method you usually use. Here you will find the various options which will allow you to "adjust" your aim.
Another setting that might interest you is the one related to shadows, a graphic effect that can create some problems in hitting enemies in the distance. Well, to turn off the "dark areas", just go to the settings of the game, select themonitor icon I will post your No the option linked to ombre. Remember to press the button A on the keyboard to apply the changes.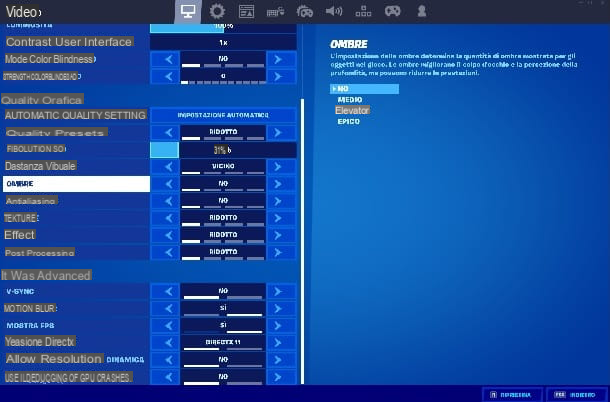 Other than that, it might be interesting to use gods tool sterni, like the one offered by the 3D Aim Trainer website, to train you. There is also the possibility of learn from professionals, watching their videos and their broadcasts. For all the details of the case, I invite you to consult my tutorials on how to improve aim on Fortnite PC.
I remind you that the title of Epic Games is evolving and therefore the developers may decide to make changes to aim assist or gameplay in general at any moment. Therefore, I invite you to take the information contained in this post as purely indicative.
Since you usually play Fortnite, I also recommend that you take a look at the page on my site dedicated to Epic Games' Battle Royale, where you can find many tutorials that might be right for you.