Your friends talk about nothing but Fortnite, a third-person multiplayer shooter originally available for computers and video game consoles that was later also released on smartphones and tablets. In this regard, from the moment you are in possession of a iPhone, you would like to know how to download it on the latter and finally start playing it, to also participate in the discussions of your friends.
Well, if that's the case and you wonder, then, how to install Fortnite on iPhone, you will be happy to know that you came across the right tutorial at the right time! In the next few lines, in fact, I will first of all tell you about the minimum requirements and devices compatible with the famous Epic Games title, after which I will guide you step by step in downloading and installing the latter on the iPhone. Finally, I will provide you with some useful information so that you can succeed in taking your first steps in the game.
How do you say? Can't wait to get started? Very well, sit down comfortably and pick up your "iPhone by". Read carefully what I will indicate to you in the next paragraphs of my guide and, if you do everything as described, I am sure that you will easily succeed in the intent you have proposed. At this point, there is nothing left for me to do but wish you a good read, a good download and, above all, a good time!
Index
Minimum requirements and compatible devices
Install Fortnite on iPhone
Play Fortnite on iPhone
ATTENTION: at the present time, following differences related to in-app purchases, Fortnite is no longer available on the Play Store and App Store.
Minimum requirements and compatible devices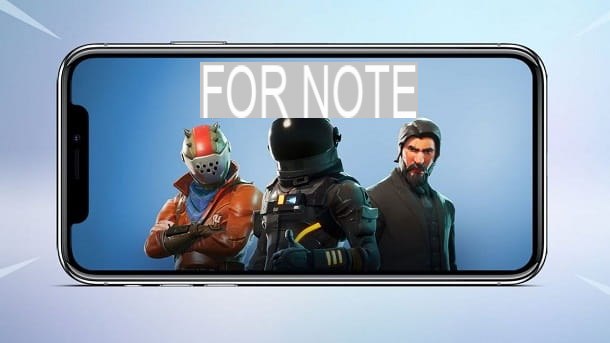 Before explaining to you how to install Fortnite on iPhone, it is necessary that I provide you with some preliminary information regarding i minimum requirements as well as i compatible devices with this famous title developed by Epic Games.
You must, in fact, know that, in order to download Fortnite, iOS, the iPhone operating system, must first be updated to iOS 11 or higher. In addition, the iPhone must be included in the list of supported models for the game, which you can find below.
Compatible iPhones
iPhone SE
iPhone 6S / 6S Plus
iPhone 7
iPhone 8 / 8 Plus
iPhone X
iPhone XS / XS Max
iPhone XR
Incompatible iPhones
iPhone 5S
iPhone 6
6 iPhone Plus
The list of devices compatible with Fortnite it may be subject to variations following the introduction of new iPhone models; in this regard, for more information, I invite you to consult the web page relating to the official FAQ of the game.

Install Fortnite on iPhone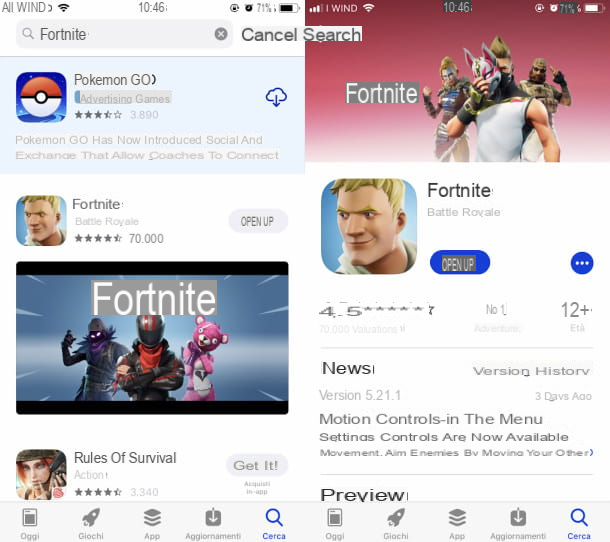 If you have already checked and compared the compatible devices and system requirements with your iPhone, you can take action and install Fortnite.
The first step you need to take is to start theApp Store of iOS and look for Fortnite in it. Having said that, pick up your "iPhone by" and start pressing onlight blue icon with the center a stylized white "A" which you can find on the iOS home screen, to launch the Apple default store.
Once this is done, press onicon of the lens of ingrandimento located in the bottom menu and, in the text field that is shown to you, type the term Fortnite. Dopodiché, premium pulsating Search on the keyboard of your device, to confirm the operation.
Now, locate, among the search results that are shown to you, the famous video game of Epic Games and press on its icon, in order to see the game card inside theApp Store. If in doubt, remember that it must be indicated epic Games as a developer.
Once you have located the Fortnite, to download the game on iPhone, first press the button Get, then, to start the installation, use the Face ID, place your finger on the touch ID or type the Password of your iCloud account.
After the download and automatic installation is complete, to start Fortnite, pigia sul pulsating apri that will be shown to you in theApp Store of iOS, instead of the button Get. Alternatively, to start the game faster, press on its icon, which in the meantime will have been added to the home screen of your iPhone.
If you have any further doubts or problems, please refer to my tutorial dedicated to installing apps on iPhone.

Play Fortnite on iPhone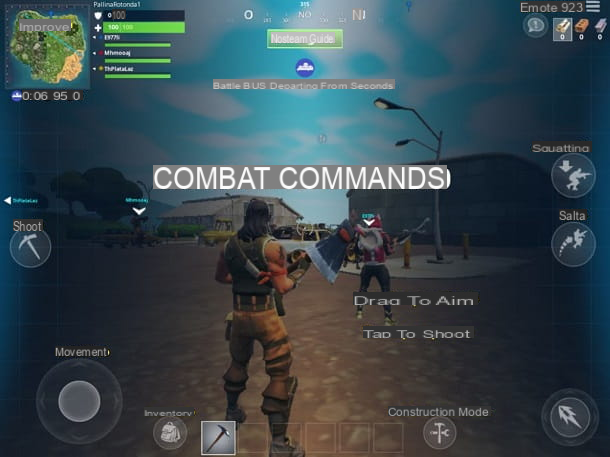 Once downloaded and installed Fortnite on iPhone, in order to play it, you must first have an account epic Games, as it is required to log into the game and sync your progress to the cloud.
Registration is free and can be done from a computer via the official Epic Games website, to which you can connect via any browser to browse the Internet. Furthermore, you can also perform this operation from mobile, using, for example, the browser Safari on iPhone. In this regard, if you need a hand to register, refer to my tutorial dedicated to the subject.
If, on the other hand, you already have an account epic Games, For play Fortnite on iPhone, you just have to do nothing but start the game, in order to start the automatic download of the latest patch available and, at the end, log in to your profile.
Once this is done, you will have access to the screen Lobby, which is what allows you to start a new game in single player or in duo, that is, with a friend.
Speaking of which, if this is your first time playing Fortnite on iPhone, and you would like to know how to take your first steps in this famous video game, I suggest you read my guide on how to play Fortnite on iPhone, in which I have given you more explanations about it.