Your friend is about to celebrate his birthday and, being a great fan of Fortnite, you are thinking of giving him V-Bucks, the virtual currency of the famous Epic Games title. A really good idea! However, if you are here and you are reading this tutorial it is because you have not been able to find an option that allows you to do this, am I right? So don't worry: you've come to the right place at the right time!
In fact, in today's tutorial I'll explain how to give V-Buck on Fortnite acting on all the platforms on which the game is available: from PlayStation 4 to Xbox One, via Nintendo Switch, PC, smartphone and tablet. All this, of course, passing through some native features from the game and without using those hacks of sorts that are often advertised online (by the way, I invite you to stay away from them, as they are not seen by the developers and the game community).
So, what are you doing still standing there? Do you want to give V-Buck to your friend? I would say yes, so take some free time for yourself, read and put into practice the quick instructions below. I assure you that by doing so, you will be able to create a very welcome gift for every Fortnite fan. That said, there is nothing left for me to do but wish you a good read!
Index
Preliminary information
Gift card
Absolute Zero Package
Preliminary information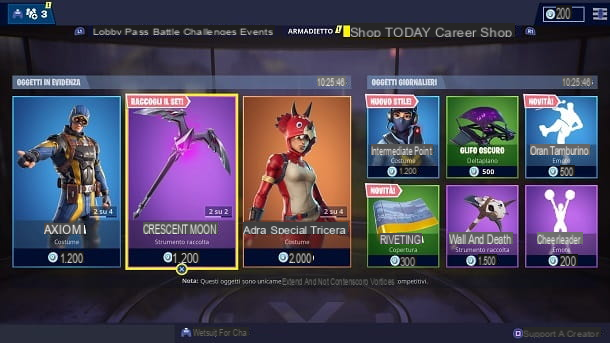 Prima di enter the dettaglio della procedura su how to give V-Buck on Fortnite, I think it may be useful for you to learn more about the virtual currency of the Epic Games title and what it allows you to buy.
Well, the V-Bucks can be used for the purchase of aesthetic elements and consumables through the Item shop of Fortnite. Many players use this virtual currency to purchase skin, special costumes that change the appearance of the character or weapons. However, there are also emote, i.e. dances and movements that can be used to communicate with other players who do not have a microphone during the game.
Another frequent use of the V-Buck is that linked to the purchase of the Pass Battle (950 V-Buck) or Battle Bundle (2.800 V-Buck). The latter allow access to better rewards as the game progresses, making the user's account level up faster. Additionally, some rewards, such as various high rarity skins, can only be earned by purchasing these upgrades.
I also remind you that the V-Bucks have a common budget regarding the free PVP mode, Battle royal, and that PVE, Save the world, which, however, is paid: its cost is € 39,99, by purchasing the standard Founder's Package, or € 59,99, by opting to purchase the Deluxe Founder's Package.
For more information on V-Bucks and their use, I suggest you take a look at my guides on how to get V-Buck on Fortnite and on how to shop on Fortnite for PS4.
Gift card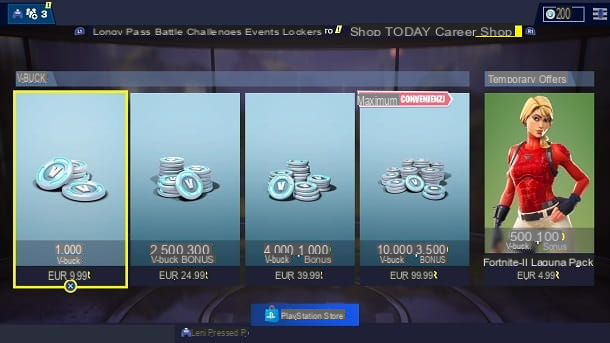 After explaining what V-Bucks are for, I would say that you are ready to give them to your friends. There is no in-game feature that allows you to pass the virtual coins in your account to another profile, but you can still buy some Gift card online or in major electronics stores and allow your friends to get V-Buck this way.
Fortnite is in fact available on many platforms and almost all of them allow you to buy V-Buck through the residual credit present in the wallet of your account. This means that by purchasing a gift card, your friend will be able to redeem the code on their device and obtain the number of V-Bucks associated with the value of the gift card.
In case you don't know, a gift card is nothing more than a card containing a promotional code to redeem on PlayStation Store (Playstation 4), Xbox Store (Xbox One), Nintendo eShop (Nintendo Switch), Play Store (Android devices) e iTunes (iPhone and iPad). Unfortunately, there are no PC gift cards. Gift cards have different denominations: for example, for PlayStation 4 the most common codes in are those of 10 euros, 20 euros and 50 euros, while for iTunes the gift cards are 15 euros, 25 euros, 50 euros and 100 euros. .
See offer on Amazon See offer on Amazon
So you just have to buy one wrapping paper for the platform your friend usually plays with and have it delivered to him or given the code. Usually, the card also contains instructions to redeem the gift card, but in general you just need to access the store of the platform, look for the entry Redeem code and enter the alphanumeric characters shown on the gift card.
To give you a concrete example, on PlayStation 4 just open the PlayStation Store (shopping bag icon), scroll the side menu from the next screen and press the key X of the controller on the voice Redeem codes. After that, all that remains is to type the code 12-digit promotional code and press the button Continue, to redeem the gift card.
Once that's done, your friend will simply have to boot Fortnite, go to the Shop and buy the number of V-Buck associated with the value of the gift card. I remind you that usually, but these values ​​may vary according to the time of year and the platform, the prices are as follows: 9,99 euros for 100 V-Buck, 24,99 euros for 2.500 V-Buck, 39,99 euros for 4.000 V-Buck and 99,99 euros for 10.000 V-Buck.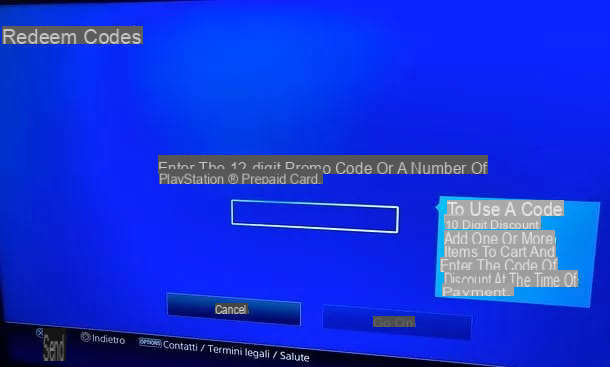 If your friend can't figure out how to redeem the promotional card, invite them to check out my guides on how to redeem codes on PS4 and how to use iTunes cards and official guidelines from Microsoft to redeem Xbox One codes, from Nintendo to register codes for Switch and those of Google to redeem codes on the Play Store.
Absolute Zero Package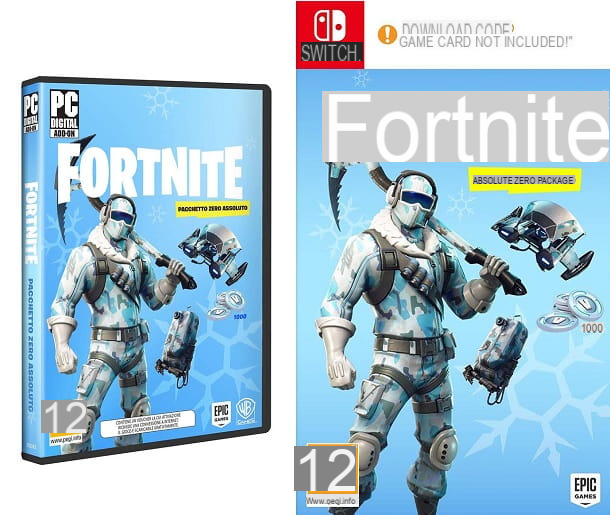 How do you say? Does your friend play on PC? The gift cards do not convince you and would you like to find another method to give V-Buck on Fortnite? Then the Absolute Zero Package could do for you.
In case you have never heard of it, it is a physical package that contains a promotional code that can unlock several skin of high rarity (such as the complete Frostbite and the hang glider of the cold bridge) e 1.000 V-Buck. It is available for PC, PlayStation 4, Xbox One and Nintendo Switch and, in case your friend already has these skins, they will receive 3.000 V-Bucks in exchange and therefore you will not have wasted money anyway.
See offer on Amazon See offer on Amazon See offer on Amazon
The Absolute Zero package can be purchased online or in major electronics stores at a variable price depending on the platform. Cost usually goes from 10 euro to 30 euro.
The promotional card also contains instructions for redeeming the code and therefore your friend should have no particular problems in this regard. In any case, you can always advise him to follow the instructions I described in the chapter on gift cards. For more information on the Absolute Zero package, I suggest you consult the official Epic Games website.